Just those words alone should make you rejoice!
Our Lord lives and is coming back again for us SOON!
What a comfort to know that he is always there for us.
He loves us SO MUCH that he died for us...
and ROSE AGAIN and LIVES and is COMING BACK!
I can't even describe how wonderful those words make me feel!
Our free word art scripture verse for this weeks Word Art Wednesday Challenge is
2 Samuel 22:47
This scripture had to be the focus of my card.
I didn't want to cover it up but make it stand out.
I created my own background paper with the verse, and voila!
were created using glue dots and red glass microbeads.
Thank you for stopping by. I hope you will join our ANYTHING GOES
A big thank you to our sponsors:
Here are this week's AMAZING sponsors: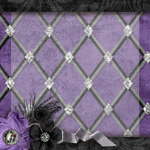 One lucky person will win a brand new
For our participants who live "Across The Big Pond",
10 pound prize to another lucky winner.
Our digital sponsor this week is
Have a happy and blessed week!