Do any of you remember the Wendy's commercial "Where's the beef?" lol. ((I know I am telling my age here)) Well, this week I got a few comments from a sweet friend saying "Where's the bling?" I guess I often add bling in a more subtle way, but realized there were a few cards in a row that had little or no bling!!! What was I thinking?!?!?! :D
After those sweet comments I received, I knew I totally had to not only bring it, but bling it!!! Even the paper has been sprayed with bling; but you cant see it :( WAHHH!!!
As an extra special touch, I made sure to use a coffee image. We are both proud coffee addicts. This image for this card is me heading up to her house with a special cup of joe just for her! A special recipe... hmm.... that reminds me. My mom sent me an email about a special recipe. This one is found in a mason jar. A jar of recipe that is said to be very addicting. I know I am from the south, so you might be thinking about those old movies that speak of a 'recipe' ... well, mine is not THAT kind of recipe :) hehehe!!! My mom found this and sent it on to me. It is from a site called Southern Plate.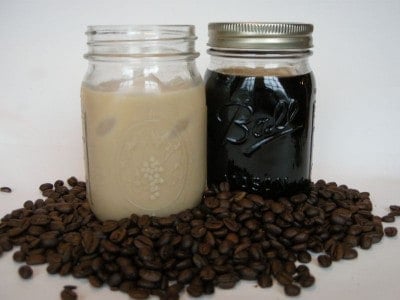 Here is the link to the
'recipe' for coffee concentrate
used to make iced
coffee.
It has been SO hot lately, I know that many of my coffee loving friends will truly appreciate this!

I attached the recipe just in case you want to snag it...
but I really suggest you go and read her post.
It is very funny and cute!!!
Cold Brew Coffee
1 Cup ground coffee

32 ounce container (1 quart)

Strainer

Large basket type coffee filters
Place ground coffee in container, fill with cold water. Cover and let sit for twelve to fifteen hours. Place strainer over large bowl and put coffee filter inside. Slowly pour over about half of the coffee and let sit until strained. Replace filter and repeat.
To make regular coffee: place equal parts coffee concentrate and water in cup and heat.
To make iced coffee: Place equal parts concentrate and milk in glass. Add ice, sweetened as desired. You may find my preference for iced coffee a bit strong for you so leave room to add some water to weaken it if need be!

SO ..... Did I BLING it or not? :)
I wish I could drive up to my friends houses with a cup of coffee, jar of recipe ;) or just some card making supplies and have fun!!! This card is for all of you who inspire me daily and always make me smile. I hope I returned the favor with this post!
LOTS of hugs!!!
Have a beautiful and blessed day!